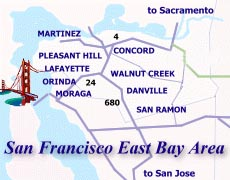 We serve a variety of suburban communities in the East Bay area of San Francisco, just east of the Oakland/ Berkeley Hills. This part of Central Contra Costa County and southern Alameda County is locally called the 680/24 corridor. The area is surrounded by green space and regional parks, all in sight of dramatic Mount Diablo.
From our office, centrally located in Walnut Creek, we enthusiastically serve this diverse corridor. We consider this area an excellent place to reside and look forward to sharing with you our extensive knowledge of the area and its numerous amenities.
Living in the East Bay makes it easy to take advantage of all that Northern California and the San Francisco Bay Area have to offer: the cities of San Francisco, Berkeley, Oakland and all their shops, theaters, restaurants, museums and other attractions; the wineries of the North and East Bay; the coastal areas of Marin and Mendocino Counties; the Monterey Peninsula, home of Carmel, Pebble Beach and 'Steinbeck Country;' and so much more.
And there's plenty to do in the Walnut Creek area, too. In its role as the crossroads of central Contra Costa, the city enjoys an unusual variety of restaurants with ethnic and contemporary cuisine; shopping at Nordstrom, Tiffany and other major department stores; and the Regional Center for the Arts is the venue for opera, musicals, drama and dance. (Check our Community Resources page with its links to many nearby points of interest.)
Communities in the 680/24 corridor include:
Walnut Creek, Alamo, Clayton, Concord, Danville, Lafayette, Martinez, Moraga, Pleasant Hill, Rossmoor, and San Ramon in Contra Costa County as well as Dublin and Pleasanton in southern Alameda County.